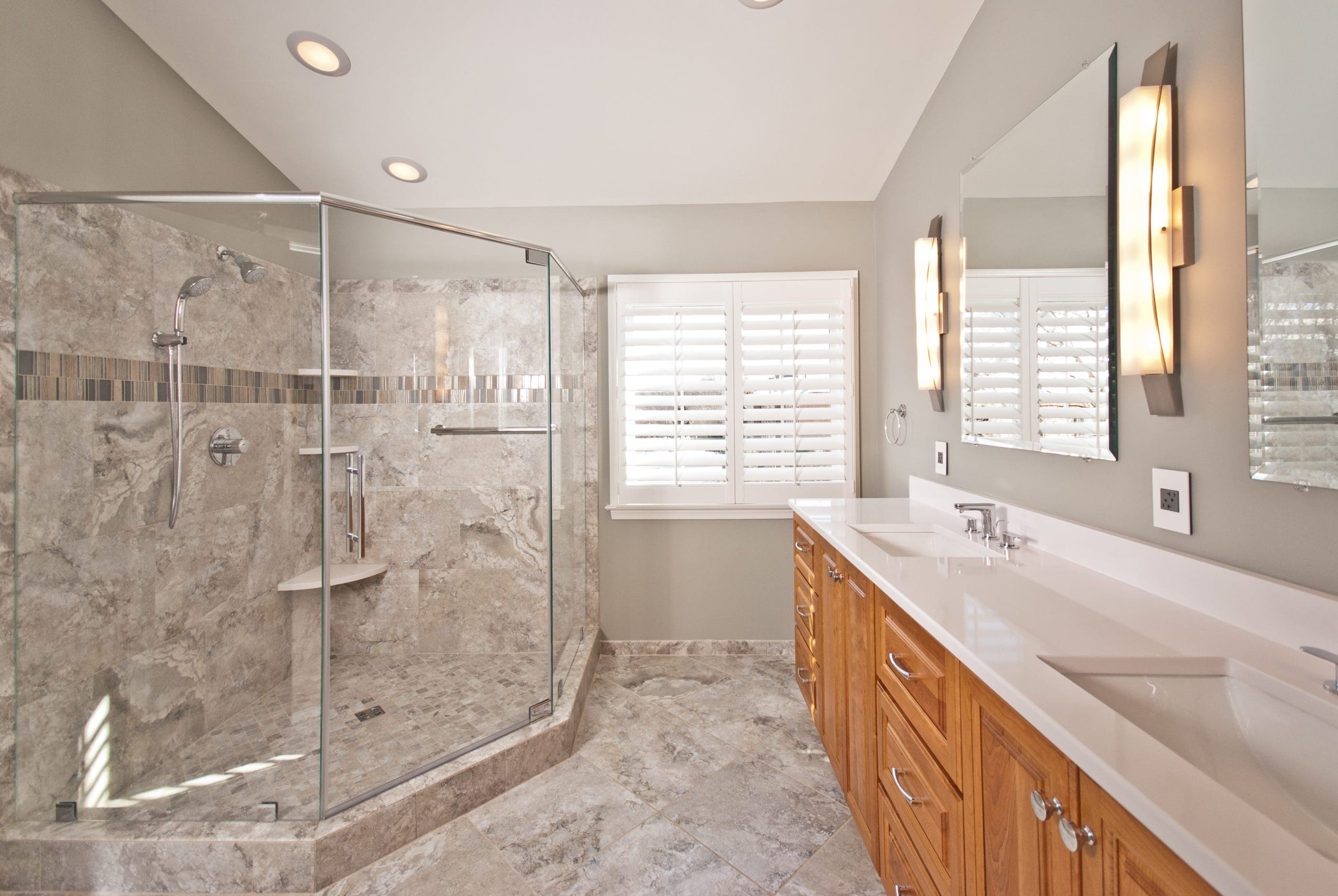 The shower floor is arguably the most important part of any bathroom remodel. It is the main line of defense against shower leaks, so we always put lots of attention on this aspect of the remodel. You also don't want it distract  from the rest of the shower aesthetically.
One common element a homeowner requests advice on is "we're not sure if we want to tile the shower floor or get a regular shower pan." When answering that question we have to establish what is the primary concern of the homeowner? Do they hate cleaning grout lines? Concerned about  budget? Are they looking for something custom? The above questions really boil down to the homeowner's budget and aesthetics. And you really have two choices – a custom tiled floor or a solid, prefabricated shower pan.
Starting at the most inexpensive level, we find that the solid, prefabricated shower pan comes in several different materials with varying levels of quality. These materials range from builder grade acrylic to porcelain glazed cast iron. These are ready-to-install units that serves as a watertight floor for a shower. Shower bases install directly on the subfloor, eliminating the need to create a sloped mortar bed and to tile a shower floor. A shower base is molded or cast to include a sloped floor, drain hole, side walls and threshold all in one piece.
Acrylic pans have a reputation for staining easily and scratching, and some customers have complained that after only a few years, they never seem fully clean.  However, you can find high quality acrylic pans from companies like Kohler and Duravit- these companies add additional materials to harden the pans and help them to resist stains. Despite this, the corners are notorious for getting damaged during shipment, so we would suggest not buying these online!
Pans made from composite resin, such as Corian, SwanStone, or Tere-Stone, are another alternative to the acrylic pan. Each brand has a slightly different manufacturing process, but all tout the durability and stain resistance of their pans. Another benefit is the number of finishes/colors/customizability of these pans – they  can mimic the look of tile or natural stone, or allow the homeowner to do something completely custom, with the advantage of less required maintenance, since grout lines are not needed nor is sealing required.  
Cast iron pans are coated with a hard porcelain/enamel glaze. Our lead designer, Derek Baxter, says, "these are the ones I commonly recommend …when it comes to stain resistance and durability you can't find much better than that!" Remember, this material is what those everlasting 1950s cast iron tubs are made out of! These are heavy, though, so may not be the easiest option if you are planning to go the DIY route.
Tiling the shower floor offers a near infinite number of options when it comes to size, color, materials and shape! The sky is the limit here, though we highly recommend using a small format tile like 2" x 2" or 3"x 3". Once grouted this provides more traction and it's also far easier to create the proper slope for drainage.  A popular/trending option we've seen is the use of a large format tile like a 12" x 12" or 12" x 24". While this looks sleek and modern, it's more expensive to install as specialty drains will need to  be employed.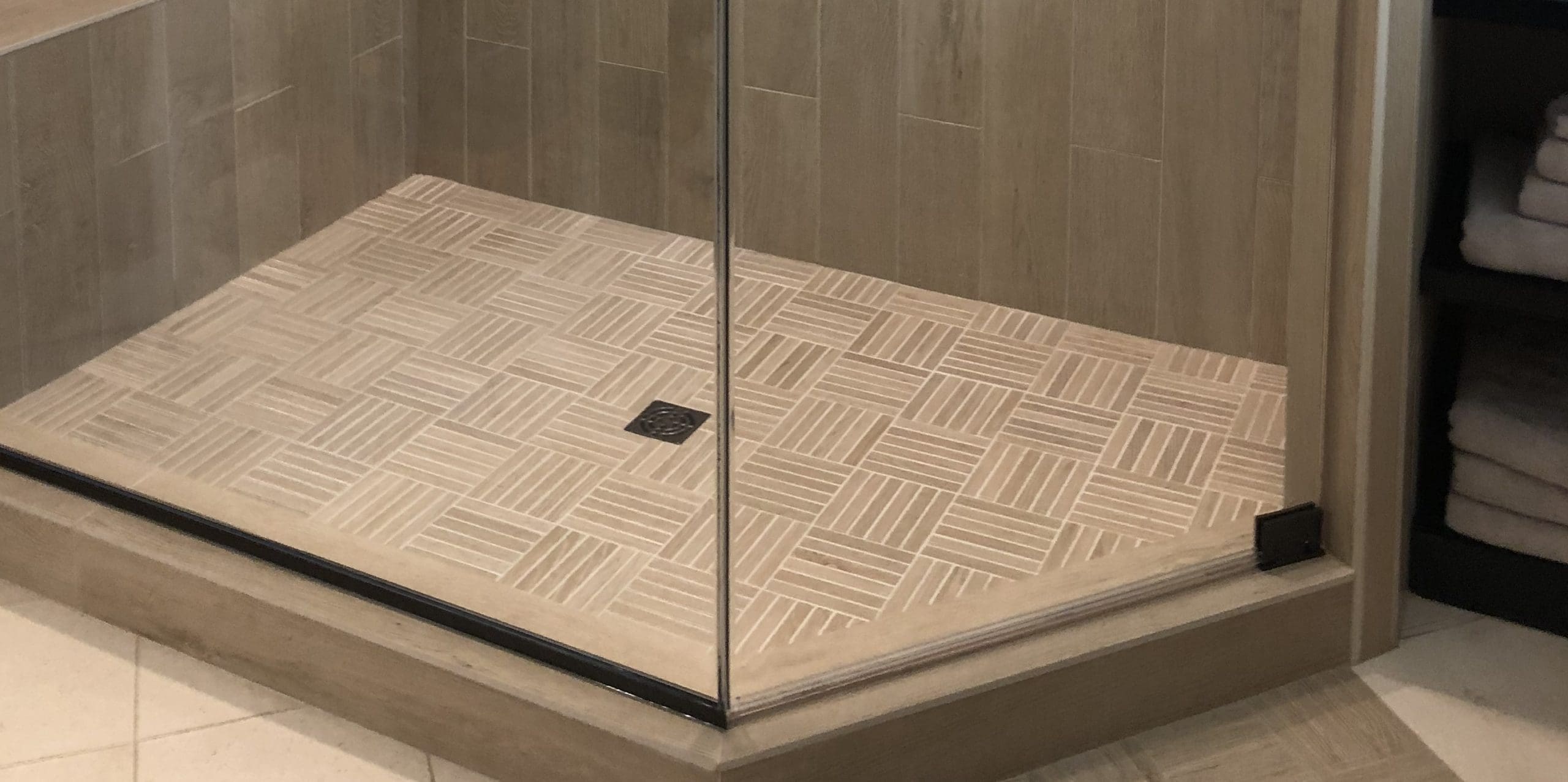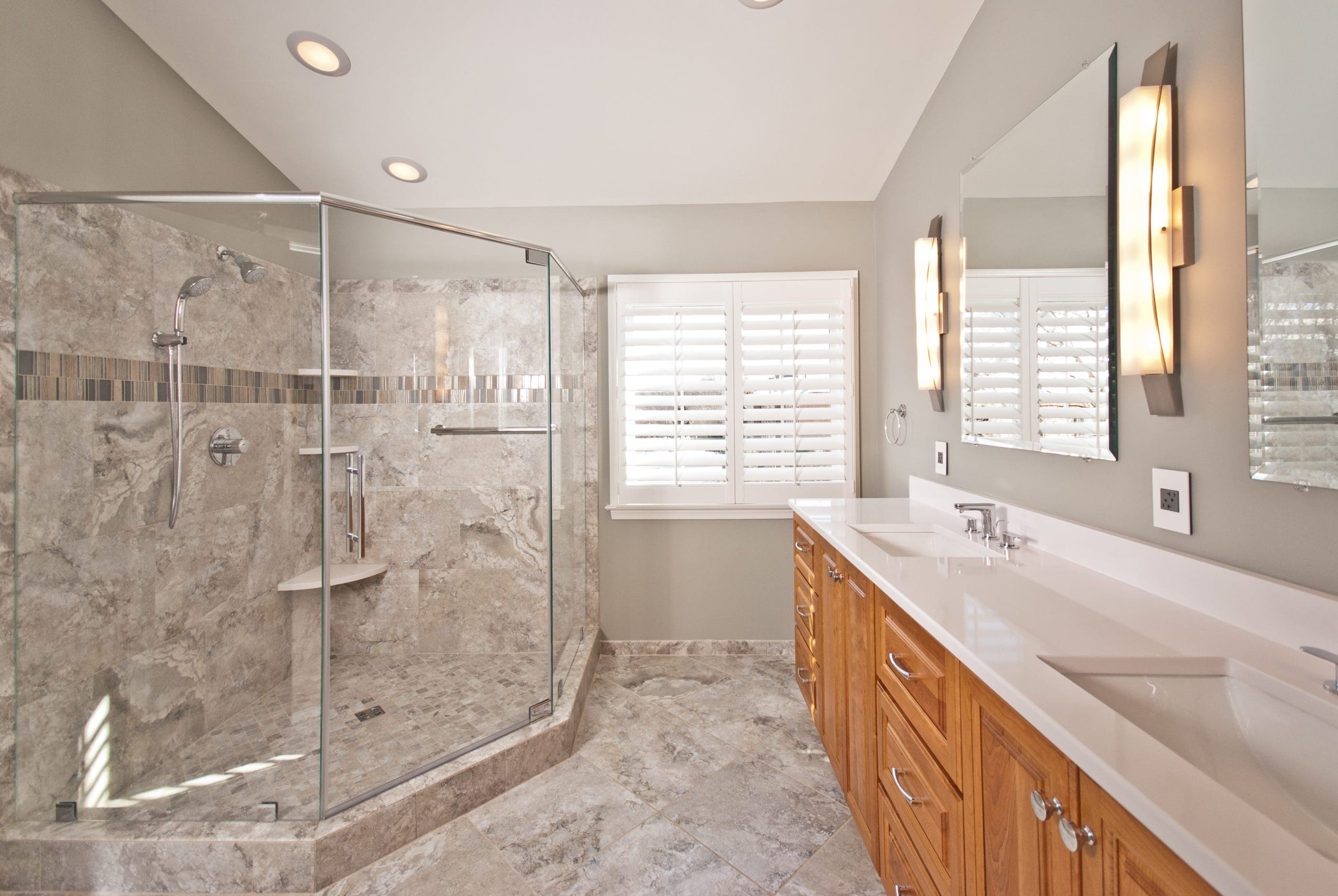 An oft-ignored area of the shower floor design is the  shower curb. We like to use a piece of solid material as the top and wall tile on the sides. This way it's a completely level surface for the shower door. You can also use Schluter edging material with your wall tile on the curb to achieve a modern, sleek look.
At SELECT Kitchen & Bath we mainly use the Schluter Kerdi waterproofing system in our bathroom renovations. This is considered the leading waterproofing material in the industry and if installed properly comes with a lifetime warranty. For some great information on the subject of waterproofing check out the interview we did with Katherine Norton from Best Pick Reports: Shower Waterproofing 101 with Select Kitchen & Bath
So all this brings us back to the question of which is the best option? Well, it depends on your situation.  As we stated at the beginning of this article, the things you should take into account  when deciding what to install anywhere in the bathroom are aesthetics and budget, but also quality. In terms of what we recommend, Derek says, "if you're renovating  your kids' hall bathroom or guest bathroom then go with a cast-iron shower pan from a company like Kohler because you'll get a quality product that is durable and timeless. However, when remodeling a master bathroom suite I almost always recommend going with a tile shower floor because of the aesthetic experience and resale value."
We hope this brief discussion of shower pans help you decide which way to go in your bathroom remodel.